Cathy Carr Taber
Owner of Carrdian Farm and Horse Trainer for Thirty Years
This is a brief resume for Cathy who has been in the business of horses for thirty years. She has been an avid competitor in show hunters, jumpers, eventing, dressage and now fox hunters since the mid 1980's. Horses that she has bred and trained are all over the United States and Canada competing and hunting.
Breeding and Training
Standing stallions, breeding and training horses started as a child, but Cathy has been doing it as a profession for thirty years. She has developed her own style and "tricks of the trade" plus has studied extensively under such legends and great trainers as Ray Hunt and John Lyons. At Carrdian Farm we have bred three to four foals on average since the beginning years and have brought along and trained each of them into their careers as show hunters, jumpers, dressage horses, eventing and fox hunters. All horses are brought along learning to give to and soften to the bit, relax their toplines, engage their hindquarters and all lateral movements off the leg.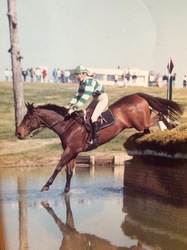 Horse Competitions
Cathy was one of the "weird-o's" who did all of the disciplines - show hunters, jumpers, eventing, dressage and fox hunting! All on horses that she personally trained and many that she bred.
Just like in breaking and training, she studied under some of the best: George Morris Clinics; coached in hunters and jumpers by one of George Morris' long term friends and students; eventing studies with Jack LeGoff, Bruce Davidson, James Wofford, Mark Phillips, Jim Graham and many others. In dressage, studied under german Grand Prix rider for numerous years along with numerous dressage clinics.
Competitions included show hunters and jumping competitions around the southeast in Atlanta, Savannah, Blowing Rock and HITS in Ocala. Eventing and dressage in most all events in the southeast including representing the state of Georgia as a team in Kentucky for three straight years bringing home first place for the state. Also, competing at the Three Day level including all three phases and the four phases of cross country.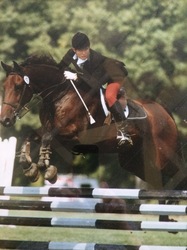 Early Childhood Years
All of this career for Cathy began on a pony, bareback at first, then western, and then competing at local shows in barrels and costume classes! There was even a Tennessee Walker! Hunt seat riding hardly existed in Thomasville, GA where she grew up. But, Cathy still found things to do with her pony in those days - including jumping the Shetland over homemade cross country jumps in the back woods. It made for a good background with an appreciation and exposure for all disciplines. Jumping, galloping and training was the passion and still is to this day!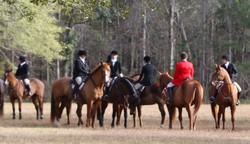 Fox Hunting
In addition to training young horses Fox Hunting is now the main occupation. Cathy has hunted for over thirty years including whipping-in for eight years and now as a Field Master for the Live Oak Hounds.